When You Die
Edit
When you die, you are presented with a window detailing your cause of death, and given the option to either respawn at the beginning of the area, or Enter The Light. 
Normal Vs. Hardcore
Edit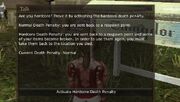 For hardcore there is a death penalty that is not present during normal death that being in addition to being sent back to a respawn point, some items become broken and in order to use them again your character must locate where death occured.
Diseases / Curses
Edit
Occasionally when your character dies or gets attacked by a diseased animal there is a possibility that the monster will pass on a disease to the character. These are permanent unless cured in a very specific manner.
| Disease | Effect | Description | Attacked by/ Death From | Cure |
| --- | --- | --- | --- | --- |
| Cow Form | Become a cow (curse) | The art of living and fighting as a cow. | Maronesa | |
| Haunted | A curse that occasionally spawns an Ursula to attack you. | Hmm, you seem to have a guest inside your head. | | Kill the boss, Ursula |
| Lice | -1 Max Power, -1 Hygeine | You've been infected with a basic disease! It is permanent until cured. | Sickly Wolf | Lawara in Tutorial Cave |
| Feeble Fever | -3 Max Health | You've been infected with a basic disease! It is permanent until cured. | Sickly Wolf | Marna |
| Lunatic Shakes | -5 Max Power | You've been infected with a complex disease! It is permanant until cured. | Worg | |
| Round Worms | +10% Vulnerable to Nature and Trauma damage. | You've been infected with an advanced disease! It is permanent until cured. | | Marna |
| Rotbelly | -3 Max Power | You have been infected with a basic disease! It is permanent until cured. | | |
| | | | | |
| | | | | |
| | | | | |
| | | | | |