==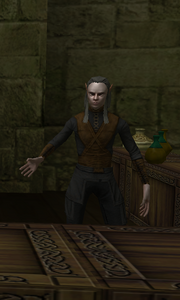 ==
DescriptionEdit
He's sweating profusely from the fire, intensly focused on some sort of potato dish. On the small stage at the back of his inn is a Community Equipment Storage chest, where players can sell spare armor and weapons for one gold so new players can take what they need. 
Area

​The building behind Rita and Blanche. He is on the right side standing behind the bar.
Comfortable
Those deer aren't gonna kill themselves- Gather 10 venison
Likes Fish
Likes Meat
Likes Milk and Cheese
Likes Vegetables
Likes Prepared Food
Hates Crystals and Gems
Hang Out
Clean up the inn- 3 hours
Gather More Crabs

favor
Crab Roll recipe
5 crabs
| Item | Price |
| --- | --- |
| Guava (favor level Close Friends) | 500 |
| Banana (favor level Close Friends) | 625 |
| Lemon (favor level Best Friends) | |
| Salt  | 5 for 37 |
| Flour | 5 for 37  |
| Sugar | 5 for 7 |
| Butcher Knife | 250 |
This vendor used to be called George
If you complete the quest Collect Apples he will talk to you while you are in animal forms.
Ad blocker interference detected!
Wikia is a free-to-use site that makes money from advertising. We have a modified experience for viewers using ad blockers

Wikia is not accessible if you've made further modifications. Remove the custom ad blocker rule(s) and the page will load as expected.