Lawara is an NPC found in the Tutorial Cave.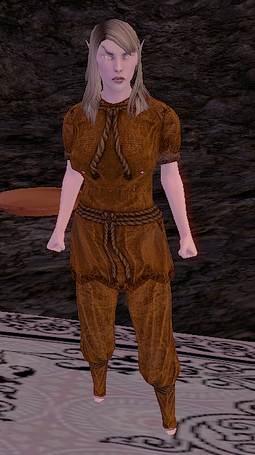 DescriptionEdit
She seems tired, bored, and dirty.
Zone:
Area:

On the westernmost branch before the cave exit.
Hang out
60 minutes: Comb out Lice

Gives the item Louse Comb
10 favor gained

4 hours: Carve Marionettes- Unlocked at Friends

25 Favor gained
300 Carpentry XP
Favor Rewards
Comfortable: Pathology kit
Friends:  Skinning Knife
Close Friends: Lawara's Mangled Platemail of Aimed shots
Best Friends: Unlocks 16 slots of storage
Gift Preferences
Loves Bread
Loves Art
Loves Bones
Giving Lawara the item "General Lawyr's Pants", which is found in the chest in the Tutorial cave, results in +62 favor.
Ad blocker interference detected!
Wikia is a free-to-use site that makes money from advertising. We have a modified experience for viewers using ad blockers

Wikia is not accessible if you've made further modifications. Remove the custom ad blocker rule(s) and the page will load as expected.