| | |
| --- | --- |
| Quest item? | N/A |
| Value? | 1 |
| Stackable? | Yes |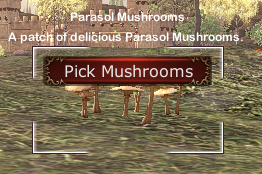 Description:Edit
A delivious Parasol Mushroom.
Effects/Uses:Edit
Cooking, Alchemy, Favor, Calligraphy, Meditation, Mycology etc.
Where to Obtain:Edit
Zone:
Area:

They grow in most areas in the zones you can find them in but they are particularly common inside and just outside the Tutorial Cave.

Ad blocker interference detected!
Wikia is a free-to-use site that makes money from advertising. We have a modified experience for viewers using ad blockers

Wikia is not accessible if you've made further modifications. Remove the custom ad blocker rule(s) and the page will load as expected.