Description & Noteworthy mechanics:Edit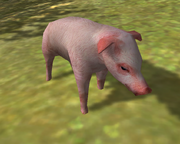 Perhaps the weakest enemy, they will only attack you if you attack them first.
-You can hunt them to get Pork Shoulder for example
- or skinning them to obtain the Pig Snout, neccesary for a certain quest.
The crushing abilities are effective against them.
The trauma abilities are also highly effective to battle them.
Armor 0
Health 30
Rage 50
Location: Edit
Drop

Value

Grass
1

10

5

100

3000
Ad blocker interference detected!
Wikia is a free-to-use site that makes money from advertising. We have a modified experience for viewers using ad blockers

Wikia is not accessible if you've made further modifications. Remove the custom ad blocker rule(s) and the page will load as expected.